The 94th Congress of the Spanish Society of Ophthalmology was held in Granada from September 26 to 29. This congress brought together ophthalmologists from all over the country to share knowledge and discuss new techniques in the field.
Once again, the ICR team took part in this Congress that included more than 200 posters and communications, as well as classes, symposiums, and meetings.
Dr. Jürgens, part of the class on vitreous-retina
Dr. Jürgens, medical director of the ICR and head of the Department of Retina and Vitreous, collaborated in the update class on retinal pathology in patients with high myopia.
This class was consecrated to the management of different pathologies that can affect the retina in patients suffering from high myopia.
Dr. Ayala participated in the session on glaucoma
Dr. Ayala, an ophthalmologist of the Department of Glaucoma of the ICR, presented a paper about the application of telemedicine in glaucoma.
Telemedicine is a tool that allows to diagnose and monitor patients with glaucoma, allowing greater attention to those patients who, due to geographical, personal or health reasons, can not travel to their health center.
Dr. Castillo took part on the subspecialty day in neuro-ophthalmology
Dr. Castillo, head of the Department of Neurophthalmology of the ICR, was part of this Congress as a panelist on the day of the subspecialty in Strabology and Neuro-ophtmology.
During the session, the doctor presented the paper "This eye is smaller" during the panel entitled "Typical versus atypical.
The Department of Glaucoma and Retina and Vitreous in free communications
Doctors Sotelo and Ayala, members of the Department of Glaucoma, gave a presentation on ocular hypertension in patients who have macular edema and who are treated with an intravitreal dexamethasone implant (Ozurdex®).
Doctors Dyrda and Rey, specialists in the retina and vitreous, acted as speakers in two communications. The first was devoted to the clinical characteristics and long-term evolution of chronic central serous chorioretinopathy. In the second presentation, the functional and anatomical results of the epiretinal membrane after a rhegmatogenous retinal detachment were addressed.
Optic atrophy and intermittent exotropia in panel communications
Doctors Espinosa-Saldaña and Soldevila, both members of the Department of Pediatric Ophthalmology, presented a panel communication on optic atrophy in a patient with propionic acidemia.
Dr. Soldevila also addressed the management and treatment of intermittent exotropia in pediatric patients through the review of cases in the ICR.
Dr. Duch in the special supplement of La Razón dedicated to the Congress of the SEO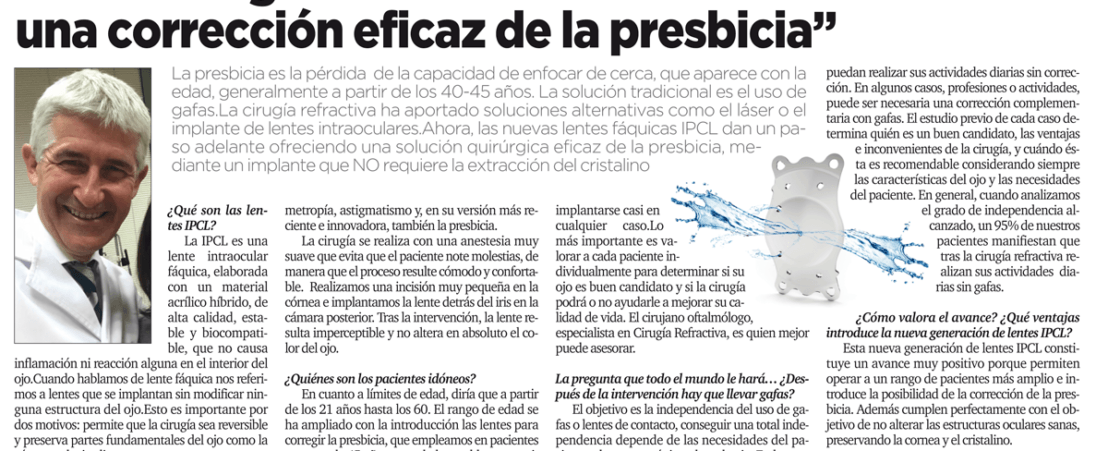 Dr. Duch, head of the Refractive Surgery Department, was interviewed during the SEO congress by La Razón, to talk about the new generation of IPCL lenses.
These lenses represent a great progress for those people who want to correct presbyopia.
The complete interview can be read in the following link.
https://icrcat.com/en/dr-duch-interviewed-in-la-razon-about-ipcl-lenses/