Dr Francesc Duch, Head of Refractive Surgery Department at Institut Català de Retina, presented last January his doctoral thesis defence under the name Refractive and functional outcomes in clear lens surgery with trifocal intraocular lens implantation in the Teaching Unit of Hospital Vall d'Hebron, that belongs to the Faculty of Medicine from Universitat Autònoma de Barcelona, before an examining board composed of professors Josep Garcia-Arumí, Jesús Costa and Rafael Barraquer.
Dr Duch's doctoral thesis, supervised by doctors Miguel Castilla and Daniel Vilaplana, had the main aim of analysing refractive and functional outcomes of non-corrected vision for all three distances (far, medium, and near) after clear lens surgery (presbyopia) with the implantation of the first multifocal lens with a trifocal design. This kind of lens helps correct not only distance vision and near vision, but also integrates a new focus for intermediate vision, which used to be disadvantaged in traditional bifocal multifocal lenses.
As secondary objectives, the study sought to present an analysis of refractive outcomes and the examination of aspects related to visual quality and quality of life after surgery.
135 eyes that had undergone clear lens surgery with implantation of trifocal ocular lens and that corresponded to 71 patients were analysed and monitored for a year.
The study results showed that presbyopia surgery with trifocal lens implantation is effective and safe, as it provides a good vision in all three distances (far, medium and near) with no need of glasses correction and it exceeds criteria established in the study. Both the quality of life that this surgery provides and the final degree of satisfaction of patients scored in performed tests above 90%.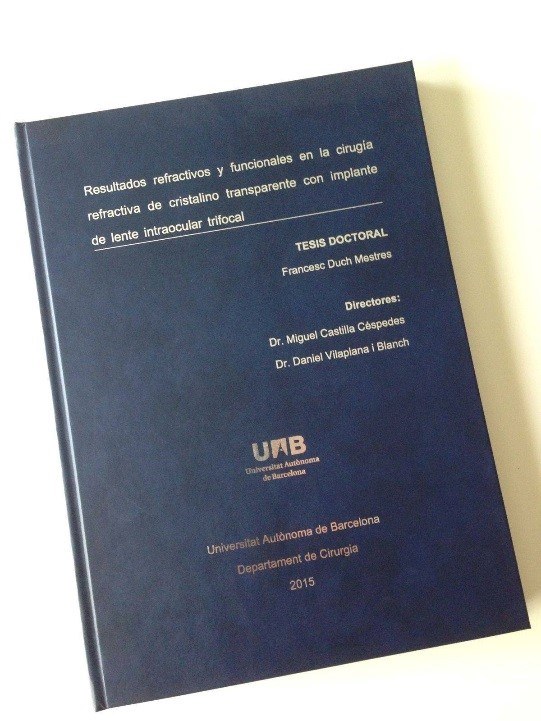 The examining board marked the presented work as excellent with cum laude honours.
The conducted study encourages the whole ICR Refractive Surgery team to work, once again, according to principles of excellence based on clinical assistance, teaching and research that help provide the best possible attention to the patients who trust us.