Myopic maculopathy is an acquired macular disruption, generally a consequence of high myopia. It is a progressive pathology that can appear in very early ages.
With the increase of life expectancy, the percentage of affected population is high. That is why it is important to assess if an early surgery can improve the patient's vision.
This was the main topic of one of the presentations in the last Retina refresher course, held June 3rd, 2022 at the University Hospital Vall d'Hebron. The lecture was given by Dr. Jürgens, Medical Director and Head of the Retina and Vitreous Department at ICR. Its title was "Early surgical intervention on tractional myopic maculopathy".
Causes of the myopic maculopathy
The Doctor focused on the surgical treatment of certain illnesses suffered by patients with high myopia, meaning those who present more than 6 diopters. This myopia goes beyond an anomaly that can be corrected with glasses, contact lenses or surgery. It is an illness that causes visual disability and it can cause irreversible visual loss.
The sight loss can be a consequence of several circumstances: retinal detachment, anomalies in the nervous fibers layer or, more frequently, macular disease, called myopic maculopathy.
Tractional myopic maculopathy
Of all the cases of myopic maculopathy, Dr. Jürgens focused on those produced due to a mechanic problem, in which the ocular globe distension caused by an eye lengthening results in a tractional problem. Up to 30 % of the high myopia patients present these mechanical anomailes in their maculae and in 50 % of the cases this maculopathy will advance in time.
In these cases, traction can be treated in order to improve the patient's sight.
Following a study published by the Retina team at ICR in the Ophthalmologica journal, 28,5% of the patients had to undergo surgery due to illness advances that had worsened their visual acuity. However, all surgically intervened patients showed anatomic improvements and 81,2% of them improved their visual acuity.
Surgery in early stages can improve the patient's vision
If there are no other concomitant illnesses, patients with tractional myopic maculopathy can be candidates for a surgical intervention. It is important to consider surgery to patients with high risk of progression, since if they undergo the operation in late stages, their sight doesn't improve.
In order to differentiate the cases where the patients have higher likelihood of suffering vision loss, tools like optical coherence tomography are put to use.
The intervention requires performing extremely delicate procedures. Technology such as OCT guided intraoperative microscope allows ophthalmologists to be very precise and make sure in the same operation whether the desired surgical goals are met.
Other presentations of the course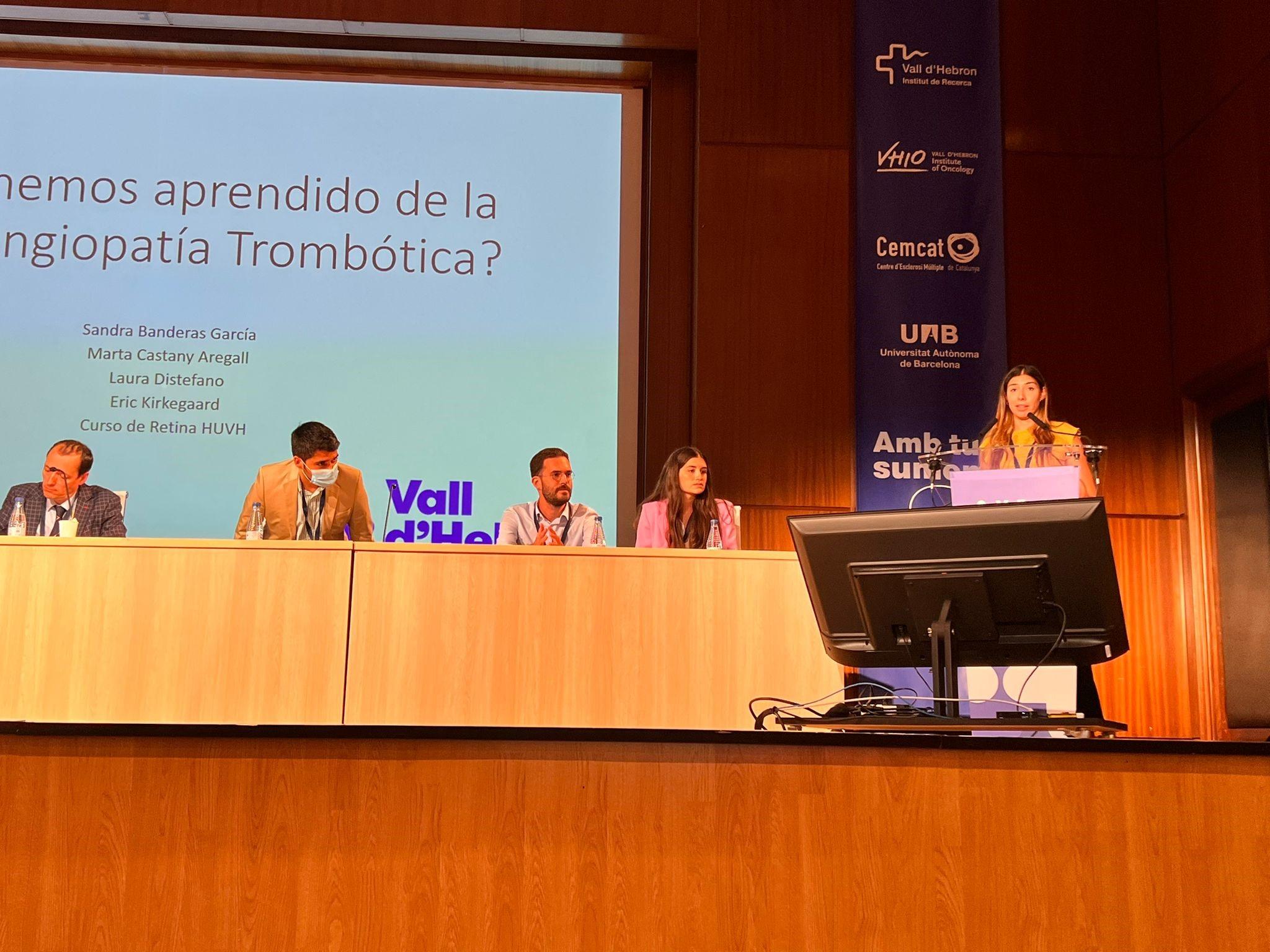 During the session, other doctors from ICR participated with more lectures, like Dr. Banderas, who spoke about trombotic microangiopathy. The doctor explained the pathology, its ophthalmic repercussions and the considerations to take into account in its treatment with intravitreous therapy, based on the cases of two patients .
More information
Natural course and surgical management of high myopic foveoschisis. An analysis by Dr. Amanda Rey, Dr. Ignasi Jürgens, Dr. Xavier Maseras, Dr. Miriam Carbajal.