Last June 8th, 9th and 10th, the Congress of the Spanish Society of Orbital and Ocular Plastic Surgery (SECPOO), was held in Bilbao.
Participation in this highly important national event of the Oculoplastics Department of Institut Català de Retina was very active.
Dr Núria Ibáñez, Head of Oculoplastics Department, was invited as a national expert in tear ducts to the round table under the name Oculoplastics based in scientific evidence, chaired by Dr Joan Prat, where the currently existing scientific evidence on external or endonasal dacryocystorhinostomy techniques in nasolacrimal duct obstruction (lower nasolacrimal duct surgery). Specialists ranked this round table as one of the best of the Congress, both for its scientific accuracy and for the round table speakers' presentations.
Moreover, the rest of oculoplastic team members presented several communications throughout the congress on different issues related to surgery in this medical area.
In panel communications, Dr Ibáñez, alongside doctors Carolina Bruzual, Sebastián Prieto, Vanesa Cuadrado, Xavier Graell, Johnny Castellar and Pilar Cifuentes, all of them ophthalmologists at ICR, presented a communication on the usefulness of pericraneal grafts in placing secondary implants in cases of ocular globe absence in which the cavity has retracted. This kind of grafts can be a useful tool for the reconstruction of the aforementioned cavities, as they have advantages when compared to the use of other grafts.
The second panel communication, named Complex reconstruction of lower eyelid and inner canthus by means of a pericraneal graft and Mustardé rotational lap, analysed the results of this surgical technique, which may be a good alternative in patients suffering from major defects in eyelids, as it provides proper functional and aesthetic results.
In terms of the third panel communication, it presented a study on eyelid tumours in patients with MELAS syndrome (mitochondrial disease). The case was rare and pathological anatomy was not conclusive. The development of tumours that the patient had was good, but the need of closely monitor the patient was determined in order to obtain a diagnosis.
In free communications section, ICR team presented a communication on the effectiveness of facial radiofrequency treatment in reducing periocular wrinkled. The treatment proved to be an alternative minimally-aggressive rejuvenating procedure, with statistically significant results and with no serious adverse effects.
The second free communication in which ICR members took part proved the effect of arterial hypertension in bleeding during and after an external dacryocystorhinostomy intervention, which makes it essential to control it. The study did not determine any correlation between the bleeding and anticoagulant or antiplatelet intake.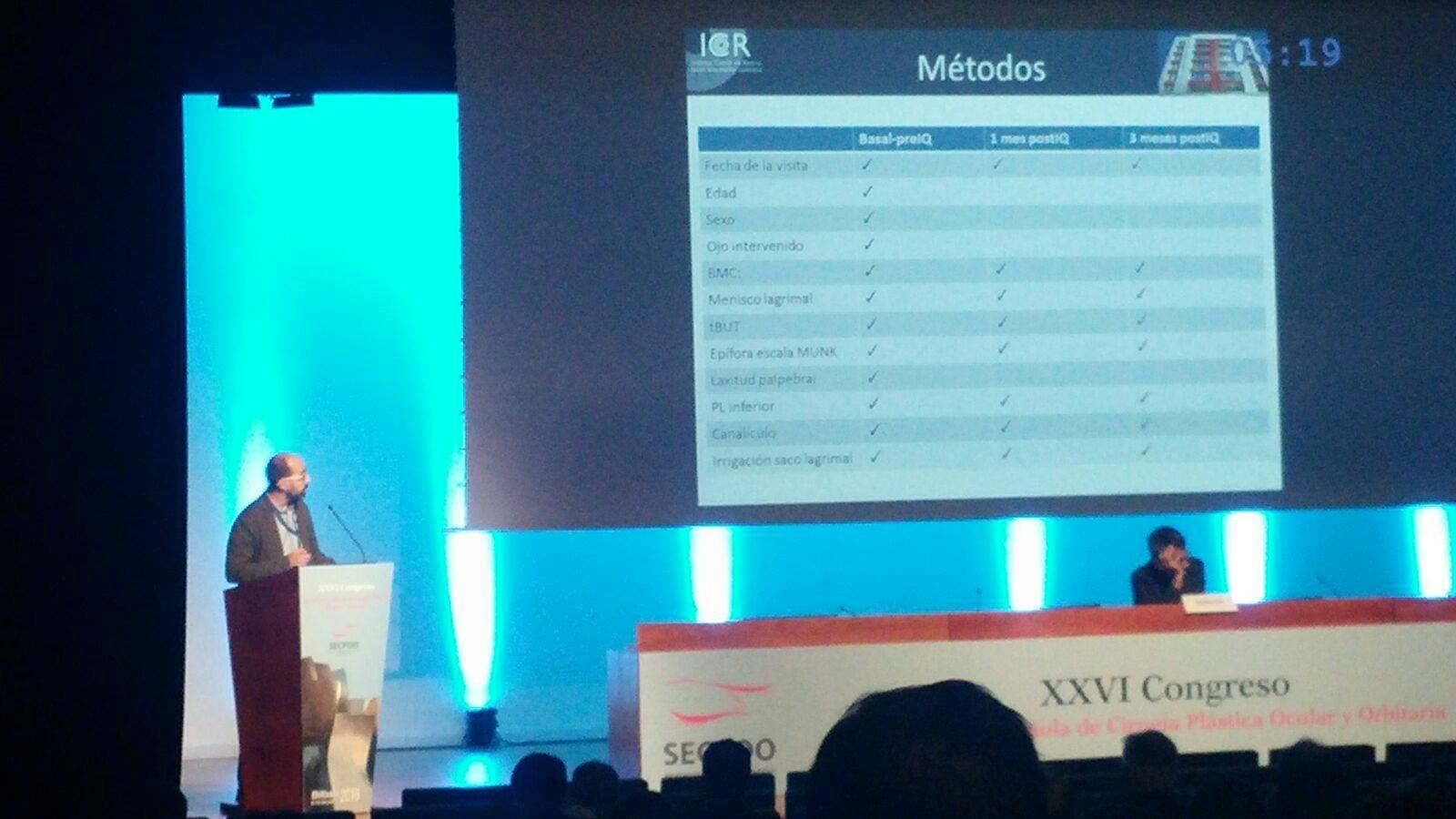 Lastly, the third free communication focused on the study of tear duct in patients that had previously undergone cataract surgery.
Participation of the team in the 26th SECPOO Congress was a real success.